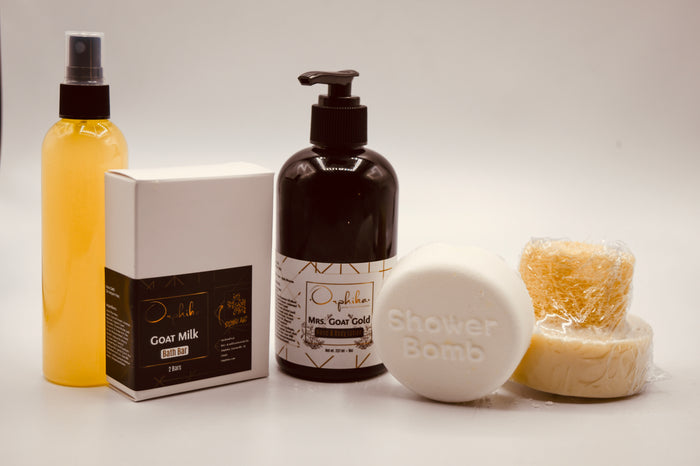 Upgrade your shower. It's luxury living over here!
After setting your shower water to a comfortable temperature, spray the Eucalyptus Spray all around your bathroom, towards the bottom of your shower, and towards the top.
Once you're in, place the shower bomb on the floor with enough distance so that the water is slowly melting it away. Take deep breaths and let the aromatherapy melt  stress away.
Cleanse your body with our creamy, luxurious Goat Milk Bath Bar and let the nutrients nourish your skin & your spirit. Exfoliate with Goat Milk Loofah on areas of tough skin.
Right after, moisturize with your floral, apple blossom scented Mrs. Goat Gold hand & body lotion. *Fragranced - not suitable for sensitive skin*
What you get: 
(1) Eucalyptus Shower Spray 
(1) Goat Milk Loofah 
(6) Refresh | Shower Bombs 
(1) Mrs. Goat Gold Hand & Body Lotion 
(2) Goat Milk Bath Bars